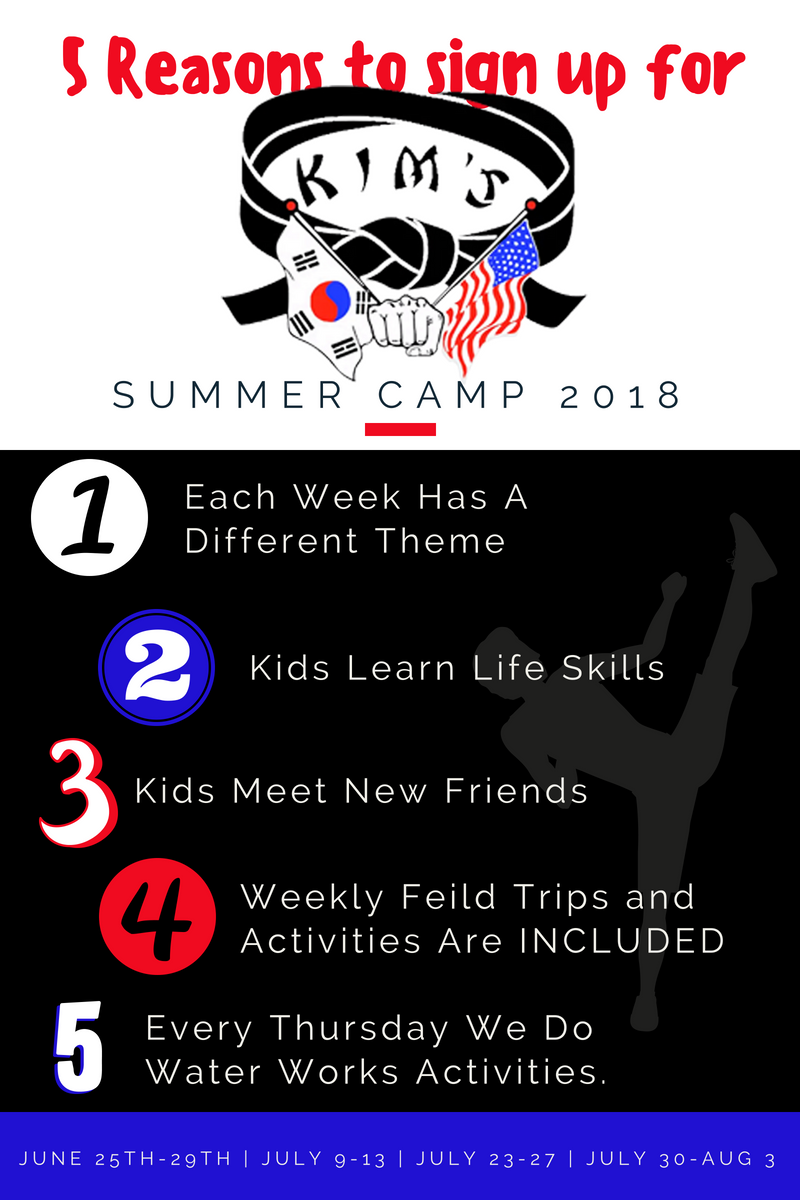 It is that time again for Kim's College of Martial Arts summer camp. Now that summer is here we hope that our Kim's students and their friends will join us for a wonderful program aimed to keep kids engaged in the learning process throughout the summer.
Each week of camp our kids engage in a very fun and positive way. Our curriculum is aimed as rising above the white noise of everyday packed with activities. Some of the daily activities include basic forms, sparring, board breaking, and more. We focus on valuable life skill discussions led by our professional caring staff.
Every session of summer camp hosts a variety of themed activities designed to engage a higher level of hands on learning for our campers. Special activities will be taught by highly qualified Master Instructors with degrees in their field of expertise from major universities.
This year we have four sessions for Kim's College of Martial Arts Summer Camp:


Sessions #1 - "What's Cooking" (June 25th-29th )
Along with our weekly curriculum of martial arts skills our campers will get to work with Masters Pizza on Route 18 in Medina and Cool Beans in Medina square for special cooking classes.
Sessions #2 - "Game On" (July 9th-13th )
Students will enjoy learning about sportsmanship and can prove themselves in the field at Laser Quest in Akron.
Session #3 - "Find the Warrior Inside" (July 23rd-27th)
Learn what it means to be find the warrior within yourself. We work with students to understand that a true warrior is always in competition with himself. At the end of the week each student will test their skills at Xtreme Ninja Warrior in Brunswick.
Session #4 – "Welcome to the Jungle" (July 30th – August 3rd)
Learn about different animals and at the end of the week enjoy seeing them at the Akron Zoo.
Who should sign up for camp?
Children between the ages of 5 and up will enjoy the age appropriate activities including martial arts. Students will be challenged appropriately for their level of ability.
How much does each session of summer camp cost?
Summer camp at Kim's College of Martial Arts is $200/week for Kim's members and $250/ week for nonmembers.


Do My children need to have martial arts experience?
No each child will learn about martial arts and give instruction based on their abilities. You do not need to have prior experience with martial arts to enjoy our summer camps.
What should our camper bring?
All children will receive a camp t-shirt. Kim's students should bring their uniforms and sparing gear. All campers should bring a lunch and healthy snack as well as TKD shoes. Clothing should be comfortable for all activities. On Thursday's children should bring swim suites and a towel for the Water Works activities. Friday pizza will be provided for lunch, so students will NOT need to bring a lunch unless they have dietary reasons due to food allergies.

Are the Friday activities included in the price of each session of camp?


Admission for the field trips on are NOT included in the price of camp.